There's no doubt that the E-Class and S-Class are two of the most popular Mercedes-Benz models.

But, which one is right for you? We get a ton of questions from clients who are debating between the two and need help deciding which one fits their needs best. While everyone's precise needs and requirements will be different, we've made a short list of the some of the biggest differences between these two vehicles. Let's take a look.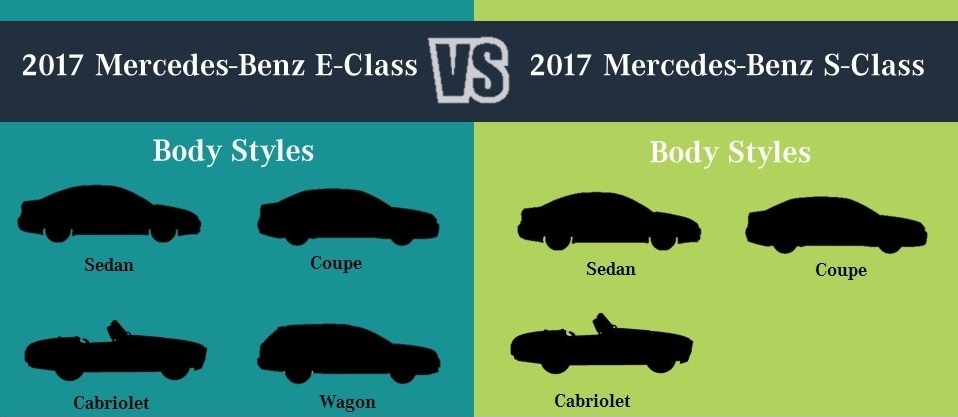 Both vehicles are available in sedan, coupe, and cabriolet styles, but only the E-Class is available in a wagon. Each body style has its own merits, but the wagon is a great alternative if you need something a little bigger to accommodate your family but you don't want an SUV or crossover (and you
definitely
don't want a minivan!).
The S-Class is bigger in size (interior and exterior), while the E-Class is more nimble and gets a little bit better gas mileage.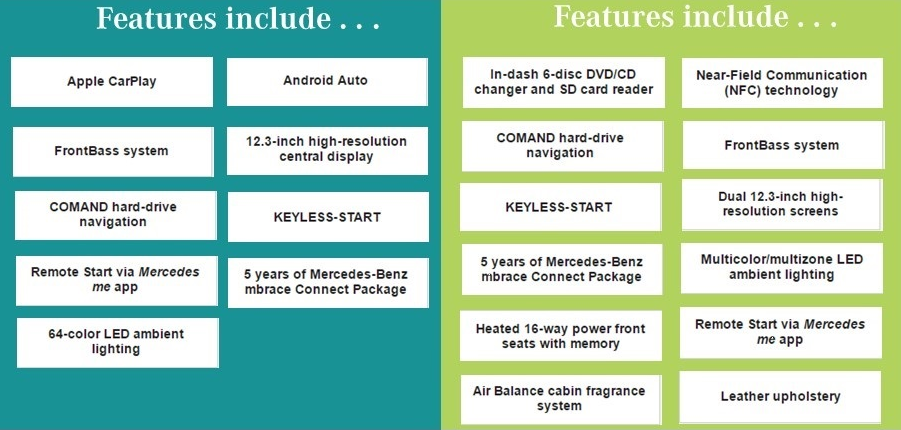 This is just a snapshot of the numerous features available on each model. Both models come standard with features like Apple CarPlay and Android Auto, Bluetooth capability and COMAND navigation. Leather upholstery is standard on the S-Class, but you can choose to upgrade from MB-Tex Upholstery on your E-Class. While the E-Class is no slouch in the features department, the S-Class is the flagship vehicle of Mercedes-Benz, and therefore is equipped at a higher level of luxury.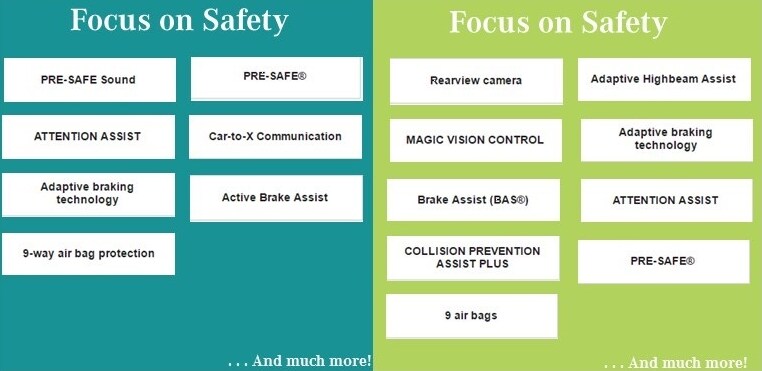 You already know that Mercedes-Benz vehicles are among the safest on the road, and the E-Class and the S-Class are no exceptions. You're likely already familiar with much of the safety technology available in both vehicles, including PRE-SAFE, which automatically tightens seatbelts and closes windows if it senses an accident; brake assist, which can autonomously apply the brakes if you don't react quickly enough; and attention assist, which can detect drowsy driving behavior and alerts you that you need to take a break.
The Mercedes-Benz E-Class does feature two model-specific safety features: Car-to-X communication and PRE-SAFE Sound. PRE-SAFE Sound helps protect your ears in the event in the event of an accident, while car-to-X communication allows your E-Class to communicate with other E-Classes on the road, to notify you of accidents or other incidents on the road before you encounter them yourself. A future goal of Mercedes-Benz is for every car on the road to be equipped with this technology, helping to make driving safer for all of us.

Of course, the ultra-refinement of the S-Class does come with a higher price tag.
Whether you're looking for an E-Class, S-Class, or other Mercedes-Benz vehicles, our three Mercedes-Benz dealerships are ready to help you find the perfect vehicle. Every vehicle has a variety of options and packages available to make sure your new car is equipped to meet your specific needs. Call or e-mail us today to schedule a test drive and learn more about everything that Mercedes-Benz has to offer!
---
We'd love to hear from you! Do you have a question or need to get more details about something we've covered? Want to tell us about your most recent experience at one of our dealerships? You can reach us at
MBFeedback@herbchambers.com
.