Welcome to our brand new AMG showroom!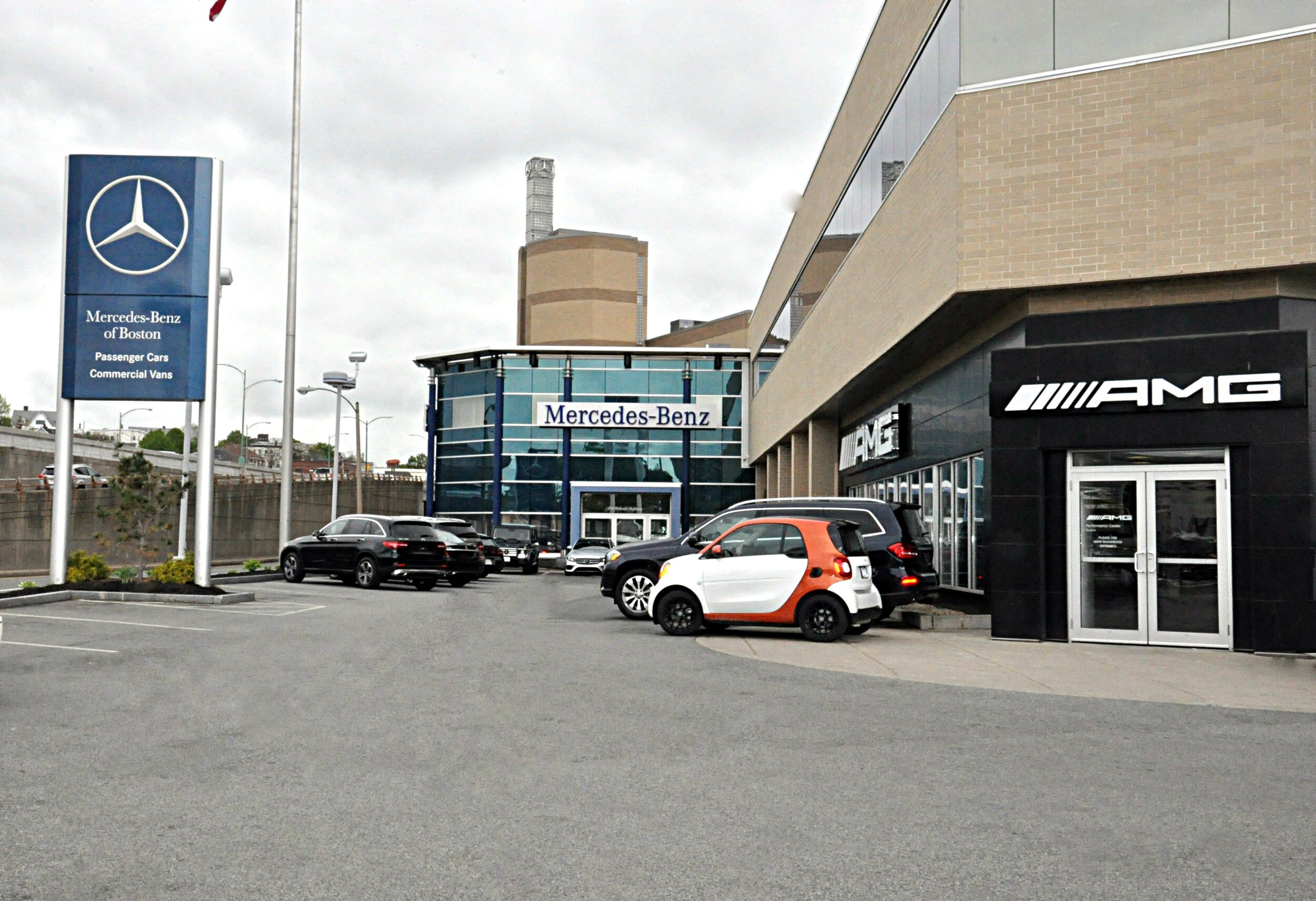 The AMG Performance Center Elite combines state of the art technology with the AMG "one man, one engine" philosophy. This gives you a hands-on, interactive experience that you simply can't get anywhere else.
The truly immersive experience starts the moment you walk into the room.
The floor looks and feels like asphalt, transforming the typical blasé showroom experience into something unique and exciting – just like a Mercedes-AMG vehicle. Overhead, one section features strobe lights that simulate what it's like to drive under streetlights at night, giving you a better idea of how your new car will look when it's out in the real world.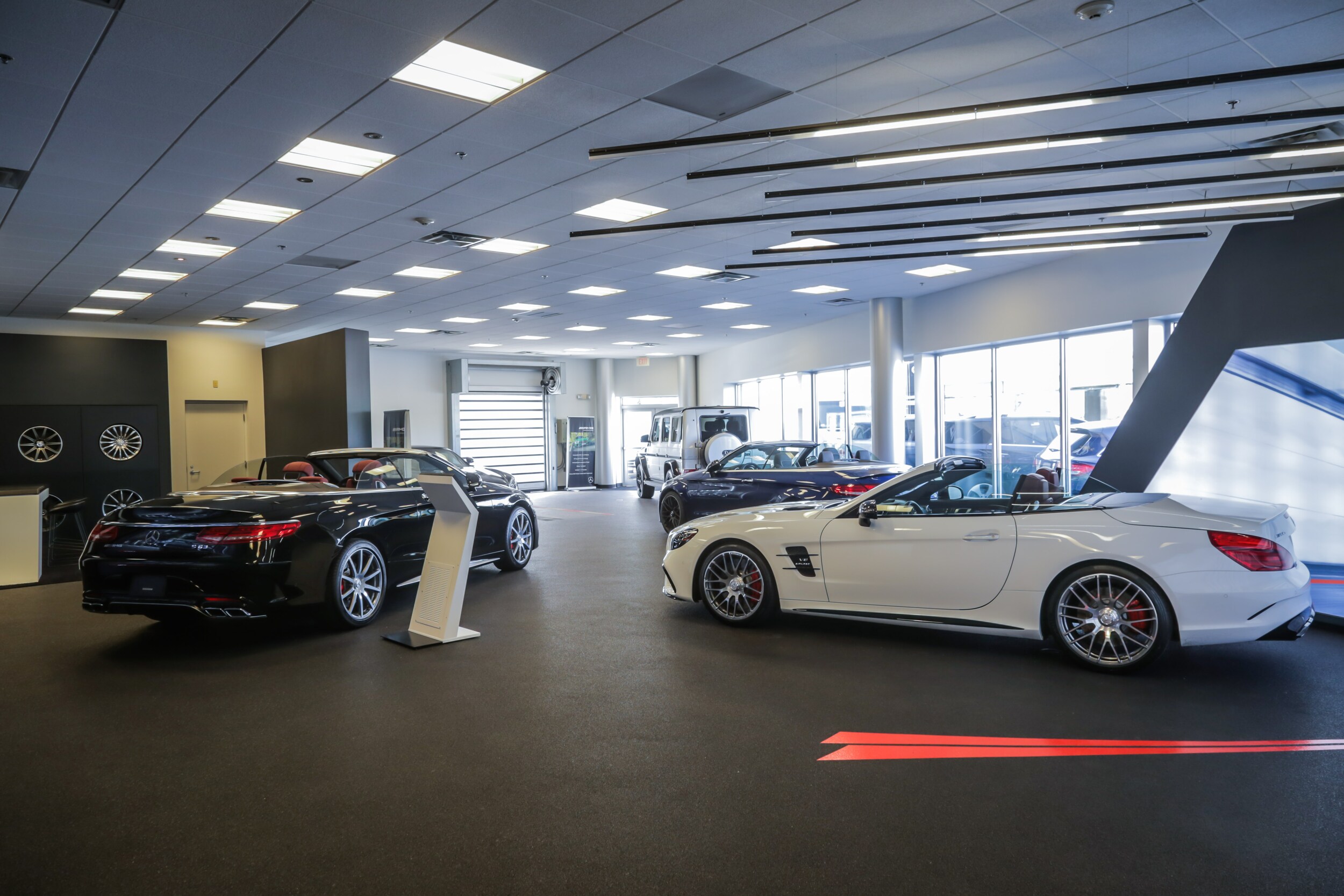 In a carpeted corner of the room, you'll find all of the swatches you could ever want to see. Against the wall, four shelves are lined with miniature Mercedes-AMG vehicles, each one painted a different color. This rainbow of colors represent the different paint options for your new vehicle, which include everything from "polar white" to "AMG solarbeam yellow", as well as several different shades of black and everything in between.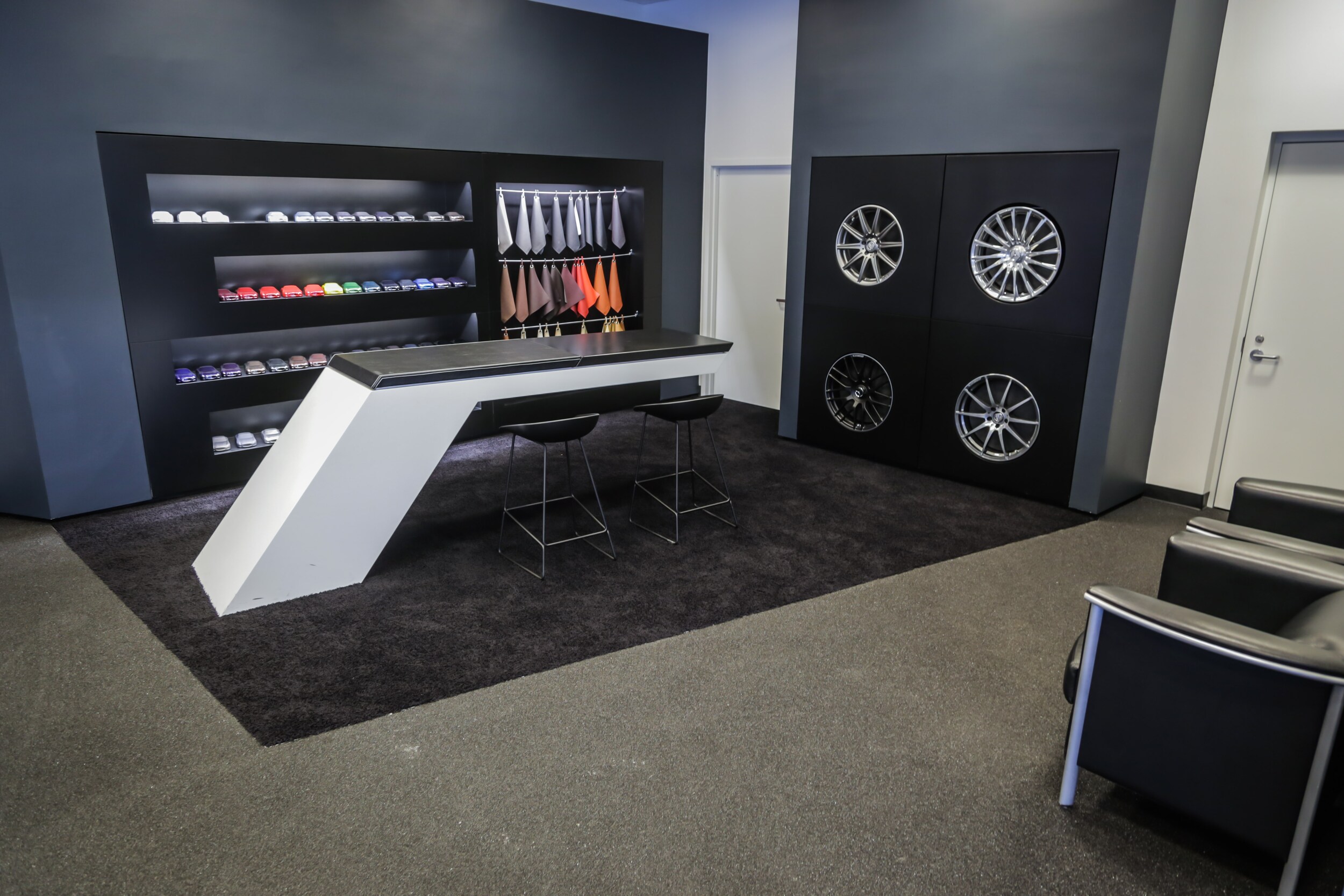 Next to that you'll find three racks with different upholstery options. These colors are anything but basic, and provide the best way for you to compare two similar shades to determine your favorite one.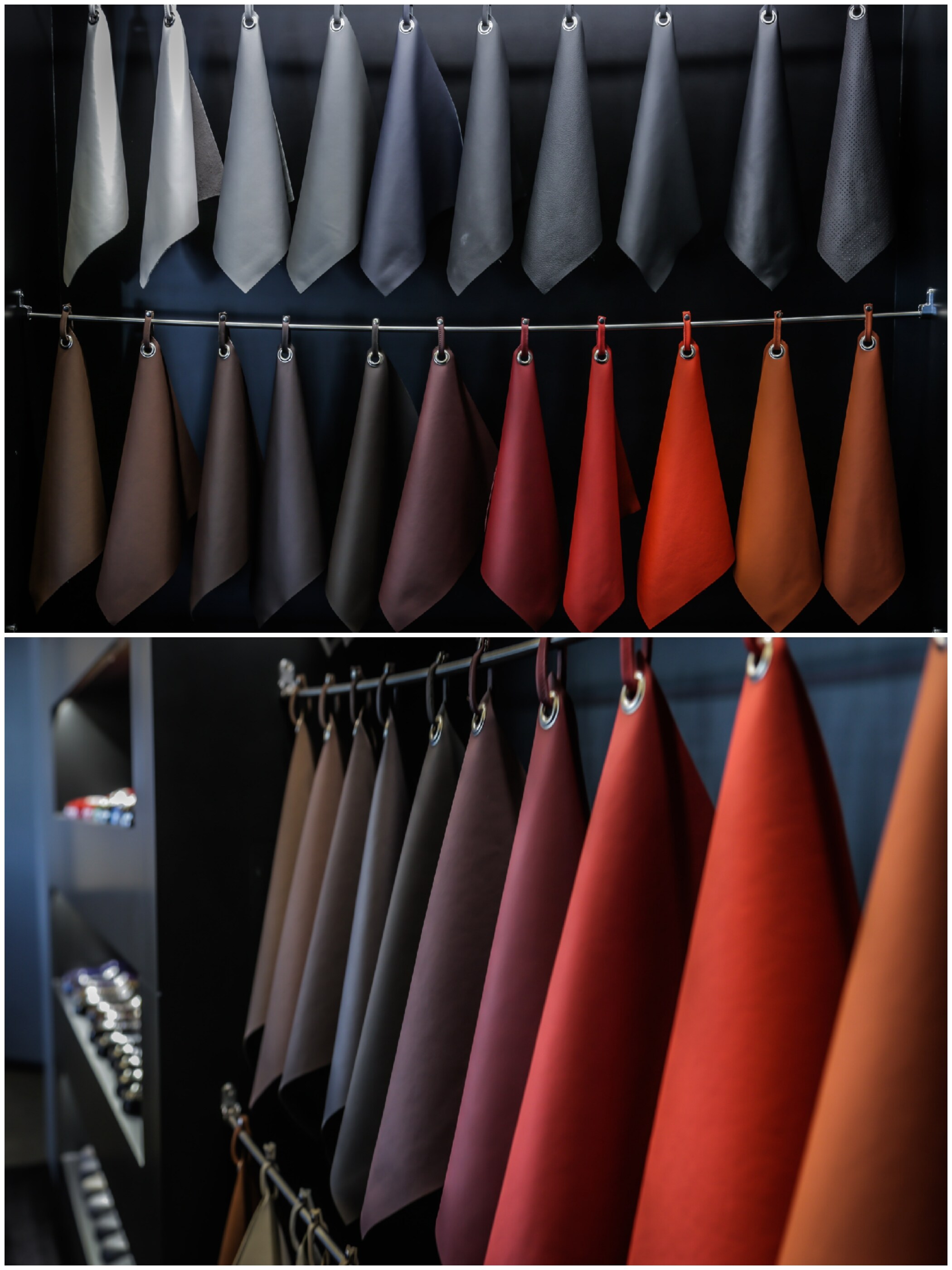 On the far wall, you'll find four different wheel options. These show you different finish options (matte, satin, black), as well as different styles, so you can be sure that your vehicle is outfitted with the option that makes your heart race each time you look at it.
Large, table-size swatches for carbon fiber and leather interior trim are set up side by side, so in addition to look and feel, you can get a better sense of how all of your options will come together in the finished product.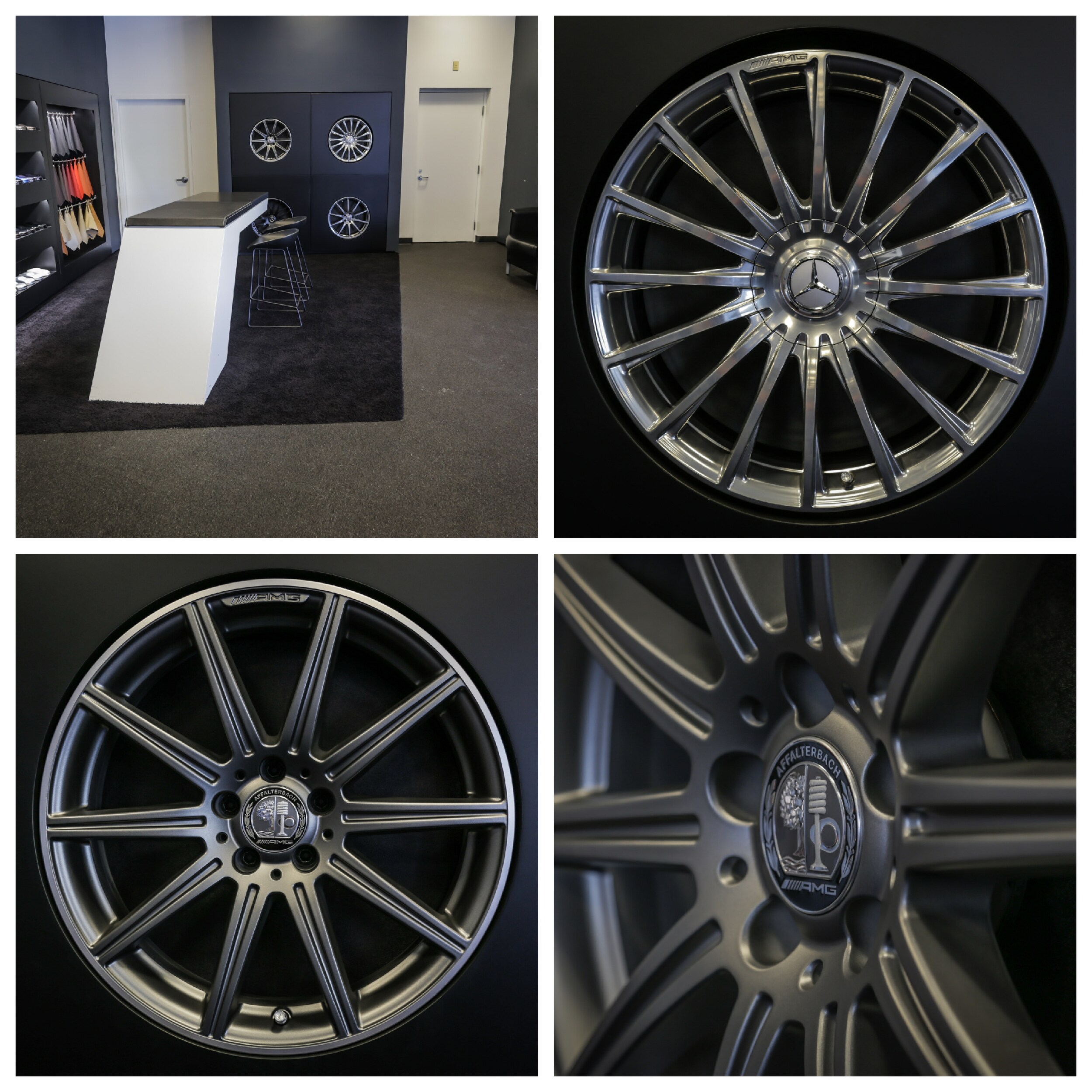 Of course, the real centerpiece of the AMG Performance Center is the PowerWall. The PowerWall consists of 16 55-inch monitors with Bose surround sound and uses 3D, high-definition video to fill the entire Performance Center with all of the sights and sounds of AMG vehicles. The PowerWall brings the vehicles to life, allowing you to experience Mercedes-AMG vehicles like never before. Inspired by gaming technology, the PowerWall showcases vehicles from the entire Mercedes-AMG lineup in full detail and vivid color – then lets you explode them to see more! Created using extensive CAD technology, exploding the vehicle lets you truly go under the hood to learn more about how various engine, exhaust, and brake systems work together to create these masterworks of automotive engineering.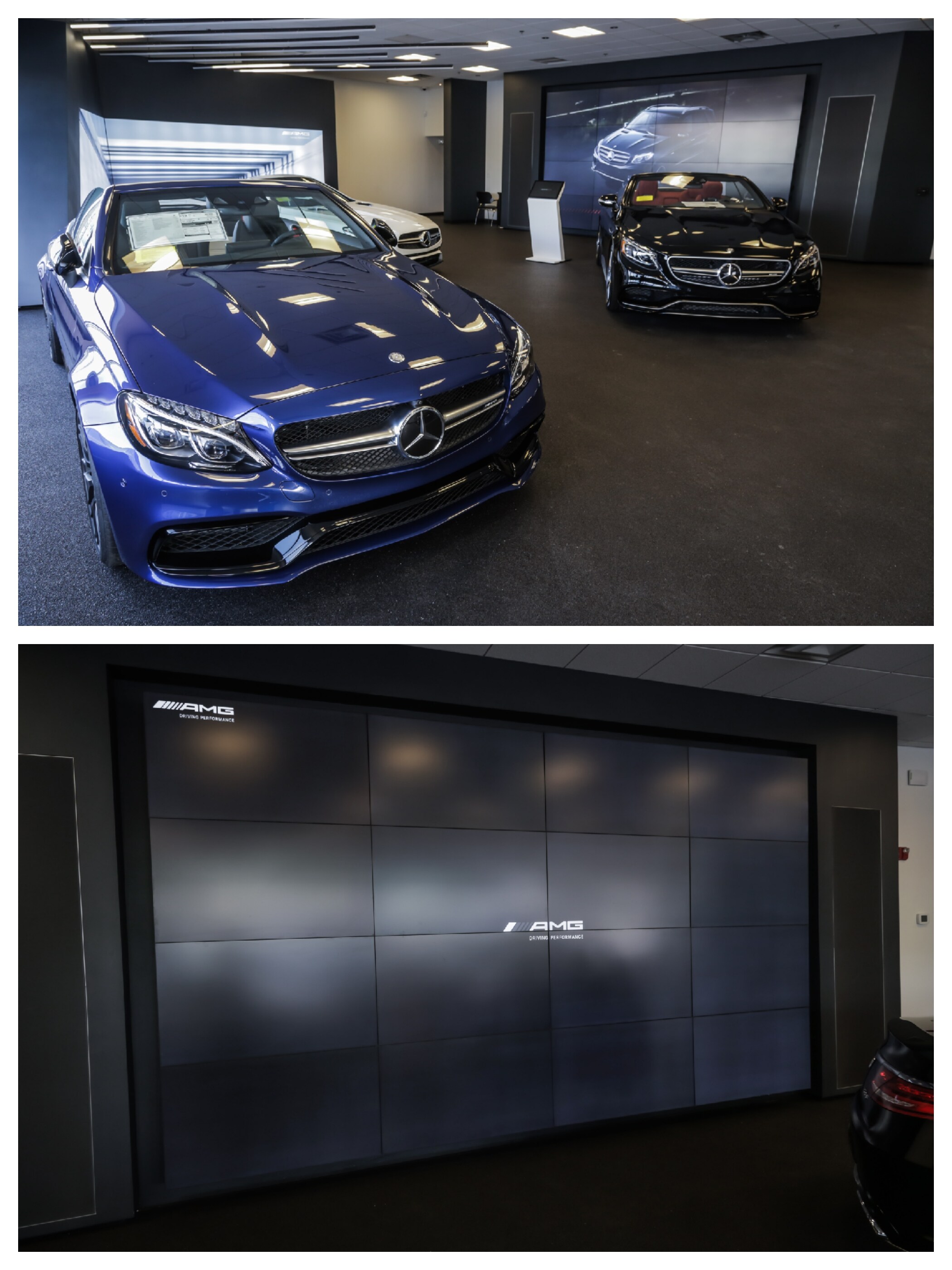 The PowerWall, however, is not loaded with just technical aspects. In addition to information about all current Mercedes-AMG models, the comprehensive video library also includes Mercedes-AMG brand history and information about various technology inside the vehicles. The library also has exclusive videos about the AMG Driving Academy, which provides attendees – coached by professional drivers - the opportunity to drive AMG vehicles on the race track.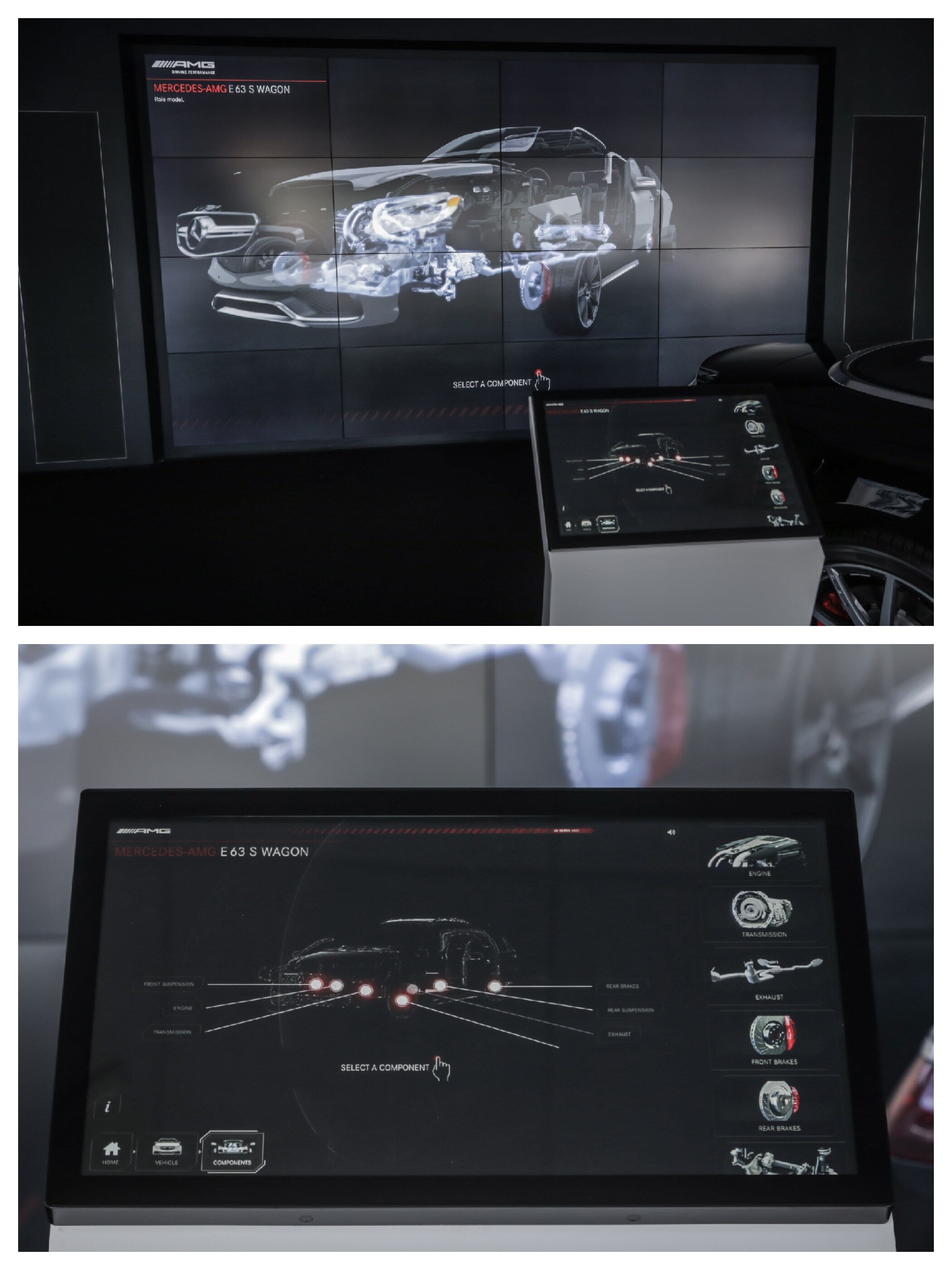 The AMG Performance Center is meticulously designed to bring Mercedes-AMG vehicles to life like never before. We invite you to visit us in Somerville to experience everything AMG has to offer.
---
We'd love to hear from you! Do you have a question or need to get more details about something we've covered? Want to tell us about your most recent experience at one of our Mercedes-Benz dealerships? You can reach us at
MBFeedback@herbchambers.com