In 1886, Carl Benz was awarded German patent #37435 for a three-wheeled, self-propelled Motorwagen.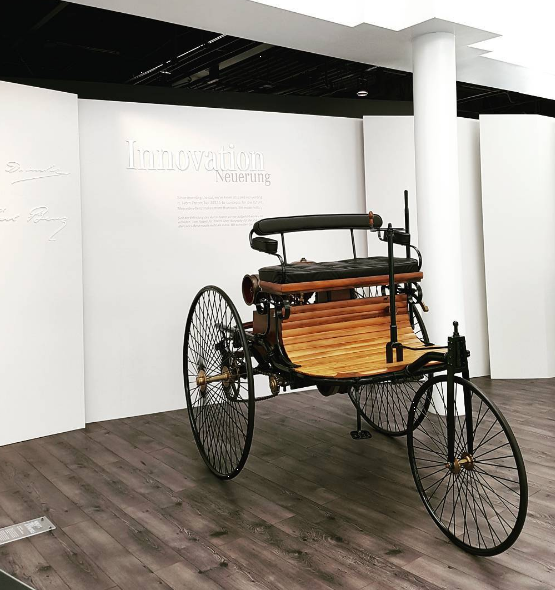 By 1931, the Mercedes 170 features the first ever fully independent suspension, allowing each wheel to respond individually. In 1949, the conical pin door lock is designed to help prevent doors from opening in an accident. In 1951, the crumple zone is invented, allowing cars to better absorb impact in an accident and helping to keep occupants safe.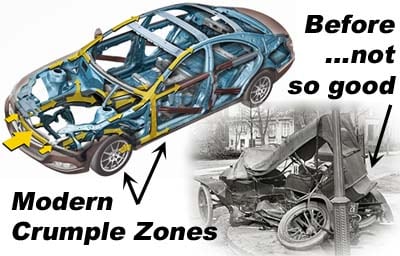 Since then, Mercedes-Benz has continued to be a pioneer in vehicle safety. These days, however, there are so many different safety features and options that it can be difficult to remember what each one does. While this is by no means a comprehensive list, we've gathered up some of our favorite and most popular features and explained them below.
Active Blind Spot Assist: A radar system monitors the area around your vehicle. Your vehicle will visually and audibly alert you when a vehicle is detected in your blind spot. If you attempt to change lanes while a vehicle is in your blind spot, Active Lane Keep Assist will apply the brakes on the opposite side of the vehicle to keep you safely in your lane.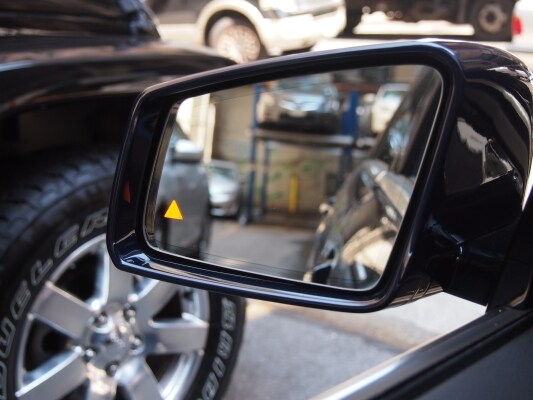 Active Lane Keep Assist: Isn't it frustrating when other drivers drift or change out of their lanes without using their blinker to let you know? Active Lane Keep Assist prevents you from being "that guy" by helping you stay in your lane! A camera located on the front windshield monitors the areas in front of the vehicle. If the system senses that you are unintentionally moving towards the line on either side of the vehicle, the steering wheel will briefly vibrate. If necessary, the vehicle can also apply the brakes to help keep you in your lane.
Attention Assist: One of Mercedes-Benz most well-known safety features, Attention Assist can detect symptoms of drowsy driving and lets you know when it's time to pull over and take a break.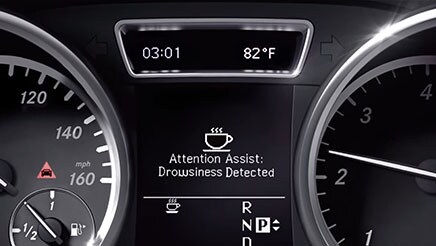 Car-to-X Communication: Car-to-X Communication is a radio based exchange of information between vehicles and between vehicles and traffic infrastructure, like stop signs and traffic lights. Currently only available on the E-Class, this technology allows your vehicle to send and receive information to and from other vehicles on the road, alerting drivers to accidents and other traffic delays that are coming in our driving area but are out of our current field of vision. This will help make driving safer and more efficient. In the future, Mercedes-Benz hopes that all vehicles on the road will be outfitted with this technology.
Collision Prevention Assist Plus: Using a comprehensive set of radar systems, CPA+ can detect and respond to an imminent front-end collision. The system will first send audio and visual warnings to the driver. If you don't brake – or if more braking power is required – CPA+ can autonomously apply the necessary brake pressure to avoid an accident. This system works at speeds of 65 mph or less, and will also activate PRE-SAFE for additional safety.
PARKTRONIC: The only thing worse than parallel parking is finding a spot that will actually accommodate your car! PARKTRONIC uses sensors in the front and rear bumper that measure distances to help you locate a suitable parking space. The system uses audible and visual alerts to let you know when it's found a space. Once you put the vehicle into reverse and activate the system, the vehicle will electronically maneuver itself into the space - all you have to do is control the brake and accelerator! When it's time to head home, the exit feature will steer you out of the space.
PRE-SAFE: Sensors located outside the vehicle continuously calculate the distance between you and the vehicle in front of you by monitoring the dynamic state of your vehicle (e.g., speed, rotation) and the driver's inputs (e.g., steering, brake). If the vehicle senses that an accident is going to happen, PRE-SAFE can automatically tighten your seatbelt, roll up the windows, close the sunroof, and adjust your seating position to help keep you safe. If a collision is avoided, the seatbelts loosen and you will be able to re-adjust your seat.
PRE-SAFE Sound: Debuting on the 2017 E-Class, PRE-SAFE Sound helps to protect your ears and hearing during an accident. In the moments before an accident, PRE-SAFE Sound uses your vehicle's sound system to play "Pink Noise" – similar to radio static or roadside traffic – which helps to prime your ears and prevent hearing loss caused by the loud crunching and crashing sounds in a serious accident. To learn more about Pink Noise and how it works, click here.
PRE-SAFE Impulse Side: Crumple zones were designed to absorb impact, but in a side collision, there's only a limited amount of space available. PRE-SAFE Side Impulse is designed to help increase the size of the side crumple zone – and to keep the driver and front passenger safe. If an accident is detected, air bladders in the side seat bolster inflate, pushing occupants more towards the center of the vehicle, increasing the distance between the occupant and the door.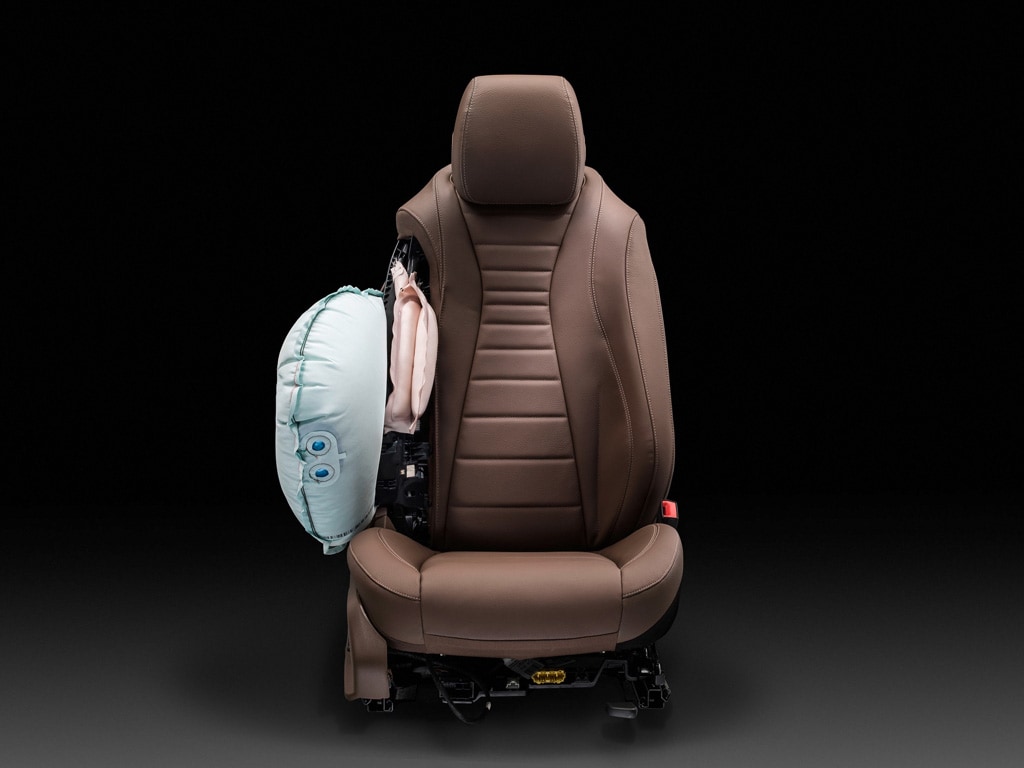 Of course, this is only the tip of the iceberg. All three of our Mercedes-Benz dealerships have fully trained sales and service staff who are happy to help if you have additional questions or need more information.

---
We'd love to hear from you! Do you have a question or need to get more details about something we've covered? Want to tell us about your most recent experience at one of our Mercedes-Benz dealerships? You can reach us at
MBFeedback@herbchambers.com
.