One of the most common questions we get from people who are shopping for a pre-owned Mercedes-Benz is about price. And, we get it: you want to make sure you're getting the best possible deal.
At Mercedes-Benz at Herb Chambers, we've sought to make your pre-owned purchasing experience as hassle-free as possible. We've done that for you in a number of distinct ways.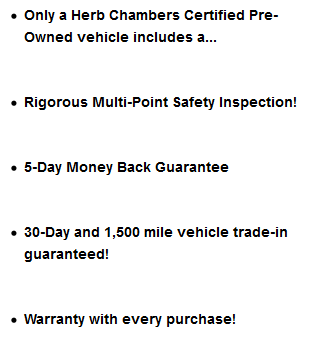 Several years ago, Herb Chambers asked his customers what they disliked most about buying a pre-owned vehicle. Nearly everybody said it was the back and forth process and that they wanted cars they could feel truly confident driving home. Enter SMART price. We shop every vehicle against the market, using Kelly Blue Book, Edmunds.com, Cars.com, Auto Trader and more to establish its true value, then price it accordingly. SMART price means that we give you our very best price up front – no negotiation, no haggling, and no going back and forth. The price you see *IS* the price!
Herb wouldn't sell a car that he couldn't stand behind, so all of our pre-owned vehicles are "Herb Chambers Certified". Before they ever make it to the front line, all of our vehicles go through a rigorous reconditioning process. This includes a multi-point safety inspection as laid out by Mercedes-Benz, as well as a full interior and exterior detail. Our pre-owned vehicles are literally ready to be driven off the lot the same day, giving us both the peace of mind needed to know that you're driving home in a vehicle that you (and your family) can count on.

In addition, most of our vehicles come with an industry-leading 5 day money back guarantee or 30 day/1,500 mile exchange policy. We want you to be completely satisfied with your purchase! If you're not, simply bring it back to us within 5 days and get your money back, OR trade it back to us for the purchase price within 30 days/1,500 miles. NO QUESTIONS ASKED! You can read more about this policy by
clicking here
.
Whether you're looking for a new or pre-owned Mercedes-Benz, the sales teams at our locations in Boston, Lynnfield, and Natick are fully equipped to help you find the right Mercedes-Benz for you. Call or e-mail today to learn more about everything that Mercedes-Benz has to offer.
---
We'd love to hear from you! Do you have a question or need to get more details about something we've covered? Want to tell us about your most recent experience at one of our Mercedes-Benz dealerships? You can reach us at
MBFeedback@herbchambers.com
.